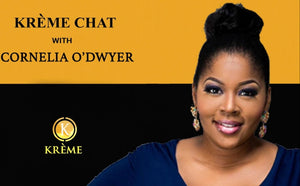 Krème chats with brains and beauty Cornelia O'
Dwyer.Host
. Writer. Producer.
There were a couple YouTube shows I discovered while nursing my new born in the wee hours of the morning; Ndani TV Real talk hosted by Cornelia O'Dwyer was one of them. If you haven't watched it, you should check it out. it was an engaging show that showcased different perspectives on different topics. However what stood out to me the most was the energetic host Cornelia.
As I watched the show, I put her down on my wish list for people I would love to chat with and fast forward to 2019, we got to chat with her about beauty, producing and of course skincare.

Thank you so much for taking time out of your busy schedule to chat with us. I am so grateful.

For details, click link in bio

Also please check out @Chickchatlive. It is a show produced by Cornelia O'dwyer that aims to encourage and strengthen bonds of solidarity between women of African descent.
We are still celebrating and excited about the launch of Hello Perfect Medical Aesthetic & Laser Clinic located in Lagos Nigeria. Hello Perfect was founded by Onyeka Udechukwu, a licensed medical aesthetician and senior laser technician trained in Texas, United States.
After years of experience, she officially launched her own practice which offers various medical skincare, laser and anti-aging services that will rejuvenate skin and restore natural beauty.
We were glad to receive an exclusive tour of the beautiful clinic and an interview with the founder.

Please click the link in the bio to watch our tour and interview with founder of Hello Perfect Onyeka Udechukwu.

Proud of you Onyeka Udechukwu, can't wait to visit and
congratulations once again.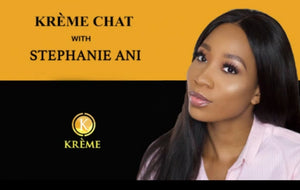 Krème Chats with Stephanie Ani. Makeup artist /Beauty, fashion, lifestyle vloggers.
When I stumbled across Stephanie Ani's platform last year, I subscribed immediately. I loved her makeup technique; simple yet gorgeous. After I subscribed and watched a tons of her videos I loved her personality even more. Authentic and down to earth are what comes to mind; so I had to catch up with her to have a chat.
Check out our chat, we talk about the up's and downs of content creating in Nigeria, makeup, skincare and more.
Thank you Stephanie Ani, for chatting with me.