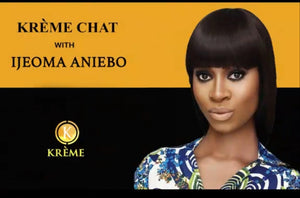 Krème Chats with Ijeoma Aniebo; Actor, Voice Actor, TV presenter / Producer & Writer.
I was first introduced to the beautiful Ijeoma Aniebo through the Krème platform. Soon after, I found out she was an actor, and a fantastic one I might add.
We started chatting about skincare and during our conversation she shared her experience with Sarcoidosis and her journey to getting it diagnosed and under control.

Sarcoidosis (sar-coy-do-sis) is an autoimmune disease that can cause abnormal masses or growths called granuloma. It can be found inside the body ,on the skin or both. When it appears on the skin, it can cause more than 20 types of lesions.
It is also known as the "the great imitator " because it often looks like other types of skin conditions, making it difficult to diagnose.
When Ijeoma Aniebo shared this journey, I wanted to have her share a little with us, and also her experience in the entertainment industry, and a few skincare tips.

This was truly a pleasure. Thank you so much Ijeoma Aniebo.